If you are purchasing the film for a university, college, library, museum, media/art center, union or other institution that requires a public performance license or for an institution planning to loan the film to members, students, instructors etc.
you MUST purchase from The Cinema Guild here or by e-mailing [email protected] or calling (212) 685-6242. (Office is open Mon - Fri, 9 AM - 5 PM EST)
« Return to all items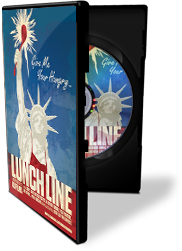 Lunch Line
DVD
IMPORTANT NOTE:
Interested in hosting a group screening with your copy of the film? Please complete a screening contract form to obtain a license.
Price: $29.95

+ s/h
Sale Price: $19.95

+ s/h
Description:
LUNCH LINE reframes the school lunch debate through an examination of the program's surprising past, uncertain present, and possible future.
In the film, six kids from one of the toughest neighborhoods in Chicago set out to fix school lunch and end up at the White House. Their unlikely journey parallels the dramatic transformation of school lunch from a weak patchwork of local anti-hunger efforts to a robust national feeding program. The film tracks key moments in school food and child nutrition from 1940s, 1960s, and 1980s to the present – revealing political twists, surprising alliances, and more common ground than people realize.
Additional Information:
SPECIAL FEATURES include deleted scenes, filmmaker interviews, short films and more.
Participate:
Join the monthly LUNCH LINE mailing list.