Store
If you are purchasing the film for a university, college, library, museum, media/art center, union or other institution that requires a public performance license or for an institution planning to loan the film to members, students, instructors etc.
you MUST purchase from The Cinema Guild here or by e-mailing [email protected] or calling (212) 685-6242. (Office is open Mon - Fri, 9 AM - 5 PM EST)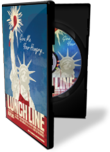 DVD
LUNCH LINE reframes the school lunch debate through an examination of the program's surprising past, uncertain present, and possible future. In the film, six kids from one of the toughest ...
$19.95
Purchase »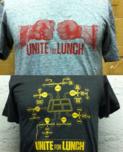 T-Shirt
Hand printed, unisex AMERICAN APPAREL Track-tee with the "UNITE FOR LUNCH" slogan and original designs by graphic artist Ezra Claytan Daniels.
$24
Purchase »
Participate:
Join the monthly LUNCH LINE mailing list.